About the Cause – Arizona Animal Welfare League
Every dollar of Happy Dog Phoenix's sales goes to Arizona Animal Welfare League, Arizona's oldest and largest no-kill shelter.
Metro Phoenix is blessed with many terrific animal organizations and good-hearted people who care very much about our four-legged friends.
Why AAWL?
As a writer, I took an in-depth, guided tour of AAWL's central Phoenix facilities a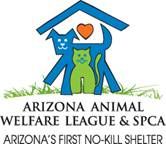 nd I was truly impressed by everyone's caring attitudes and dedication to making things better every single day. I think AAWL has a commendable vision. They realize that it's not just about adopting out animals to new home but it's about creating good homes for pets. And that's why they offer affordable veterinary care, behavior classes, education and other support services. When someone adopts from AAWL, they can make a connection that will help them through their pet's life.
Specifically, AAWL's behavior classes really drew my attention. People always ask me for behavior tips for their dog — if they would only see me with my dog, they would know that I am no master trainer! But AAWL offers  kind and knowledgeable trainers who provide education in classes that are open to the public. These trainers also provided tips for our book!
We think AAWL is a great cause to support and we thank you for your interest.