About the Author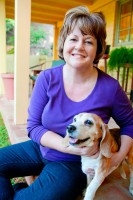 Jodie Snyder is an award-winning writer and Arizona native. A former reporter for The Arizona Republic, her life changed for the better when she adopted HoneyBun from Arizona Beagle Rescue. A rookie to the world of dogs, she decided to find out a little bit more about the species that was taking over her house. Artie is now the House Beagle.
About the Illustrator
Jeff Jones is a Phoenix-based illustrator whose clients include IBM, American Express and The New York Times. A former designer and art director, Jeff also paints, creates mixed-media pieces and hikes whenever he get a chance.
Why Happy Dog Phoenix
A while ago, I was working in my front yard, when a neighbor came along. She was walking two Beagles and I made a fuss over one while the other sauntered over to where I was working and began to nose around.
The nonchalant one was fat, older and looked to have had a harder life. Her nipples were low to the ground, so low that they could have been mistaken for testicles. (I was told later that it was a sign that she had bred and nursed way too many puppies).
She wasn't particularly friendly but not at all threatening. (Another thing I learned later: Beagles are super-friendly but not necessarily interested in being your friends. If you don't have food, they will snub you. Snub you hard.)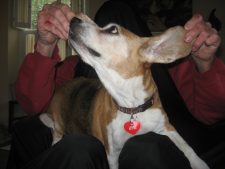 But I thought I saw a gleam in her eye. The lack of exercise, fun and love in her life hadn't quite gotten rid of the Beagle spark. My neighbor was fostering her for Arizona Beagle Rescue. Where she had been before that – who knew? Was I interested in this dog? "How about you adopting HoneyBun?'' my neighbor asked.
Was I ready for a dog?
The short answer was and is no. I had a job with regular hours but it was new – how long was it going to last? Some days, I thought I had a boyfriend; some days, apparently, I didn't. At all. I had never had a dog before but had had a series of cats that I had adored.
I called My Friends with Dogs to find out if they thought I would be a suitable to be a dog guardian. "Why are you even bothering asking such a silly question? Of course, you should get the dog. Dogs are the best. Dogs rule,'' was the response chorus. Looking back, I might have selected a more diverse group to poll. Perhaps My Friends with Fish wouldn't have been so supportive of me getting a dog.
Somehow, either through friends' peer pressure or some internal nudging, I agreed to adopt HoneyBun. I was a nervous wreck before the home visit from Arizona Beagle Rescue. I couldn't see any dangers to Beagles lurking in my house and it turns out, neither could they. But that early anxiety showed me that I was beginning to get attached to this little hound even before she got into the house.
During those early days, I snuck in "Beagles for Dummies'' and read it on my lap at work during downtimes. I was like a college student before finals. Sometimes cramming like that is good; sometimes not.
The first catastrophe
Things went pretty well for the first couple of weeks. It was weird being followed around by this somber, calm dog who never barked at strangers nor showed an overwhelming interest to get into my business.
And then disaster struck.
Since she was an older dog, I thought I would give her a liver-flavored aspirin a day to keep her joints moving easily.
She liked it so much that she jostled a dining-room table that weighed about 20 times more than she did so that the jar of liver-flavored aspirin fell onto the floor and eventually all of the aspirin made it into her stomach.
One middle-of-the night emergency room visit later (At 4 a.m., I ran at least five red lights in downtown Phoenix to get her to the 24-hour hospital at Northern Avenue and Black Canyon Freeway) and $2,000 later, she survived the stomach pumping and charcoal treatments.
There seemed to be no cure for my guilt, however. Christ, only two weeks with this dog and I nearly killed her. What was I thinking?
On a follow-up visit with the vet, he asked why I gave her aspirin in the first place. "I was trying to be nice,'' I told him. 'Well, don't,'' he said. "The dog is so much tougher than you know.''
Lessons learned
And my rookie mistakes continued: Going out on two 45-minute walks a day. Really? Allowing the dog to force me to get up at dawn for one of them? Bad, very bad. Someday, please allow me to tell you the Old Man in the Underpants with the Revolver story.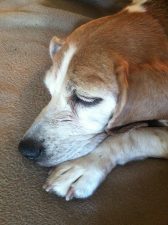 While on one of my many walks with the dog, I had this epiphany – certainly there were people like me. New to the world of dogs. Or new to the world of weird, wonderful Arizona. The Arizona thing I had a good handle on, being a native. Dogs, I could learn about. I'm a writer. Why not write a book?
And of course, the book proceeds could benefit animal rescue. A friend of mine was on the board of Phoenix Animal Care Coalition 911 and told me about their holistic approach to dog rescue – helping all organizations benefit from their support.
And so Happy Dog Phoenix came out; all the money raised went to PACC 911 and Arizona Beagle Rescue and that bring us up to today
What's new with HDP?
HoneyBun passed away in 2014. She was never a dog to greet you at the door or to hop in bed with you. I think too many years in a puppy mill made it difficult for her to warm up to people in that way. But she still had a love of food and adventure. Probably her best days was when she would escape from my house, sneak down the alley and find a bag of garbage she could tuck into. Fat, old, HoneyBun, when motivated by food, could move like a furry Ninja.
I loved her, despite her worn-out appearance and indifference to people, and thought no one replace her. But then along came Artie.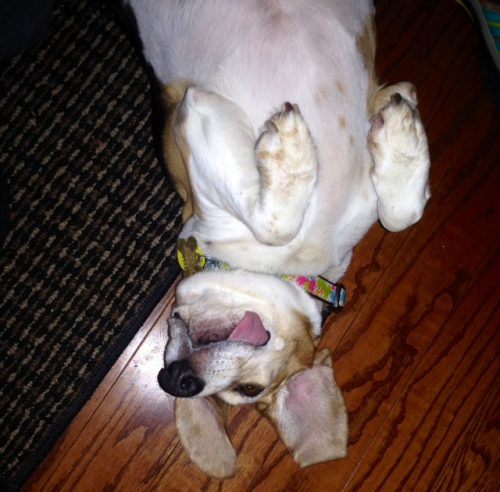 And now there is a new edition of Happy Dog Phoenix coming out. People had always asked about having behavior tips in the books. I demurred. Because there was no way I could ethically have my name associated with the phrase "dog-behavior expert.'' Again the story about the Old Guy and the Revolver comes to mind.
This time around, I decided to partner with Arizona Animal Welfare League, who are experts in helping dogs (and people with dogs behave better). It is a true honor to be working with them and I am excited to include their expertise in this latest version of the book. And it's only right that proceeds of this book go to them and support the ground-breaking work they do in sheltering and rescuing animals and educating the community.
So that's the news for now. We are looking forward to raising more money for dogs and we couldn't do it without you. And if you have time, drop us a note – we would love to hear your story.