About the Author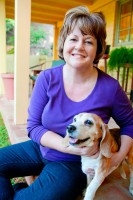 Jodie Snyder is an award-winning writer and Arizona native. A former reporter for The Arizona Republic, her life changed for the better when she adopted Honeybun from Arizona Beagle Rescue. A rookie to the world of dogs, she decided to find out a little bit more about the species that was taking over her house.
About the Illustrator
Jeff Jones is a Phoenix-based illustrator whose clients include IBM, American Express and The New York Times. A former designer and art director, Jeff also paints, creates mixed-media pieces and hikes whenever he get a chance.