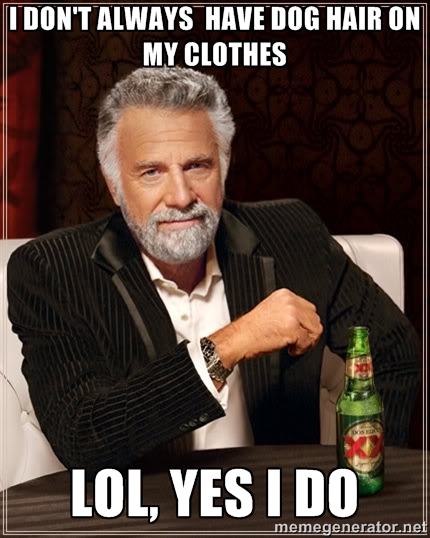 Was one of your 2016 New Year's resolutions to not walk around coated in dog hair?
Have you already (like me) failed miserably at it?
Yes, I have lint brushes stashed at home, at work, in the car and still walk around slightly hairy.
So clearly, I need to attack the problem at it source. Of course, I am referring to the sweet lil' dumpling asleep on the sofa.
The first defense against dog hair is a good offense. So, regular brushing and grooming of the dog is requisite. It turns out that good dog grooming is essential to good people grooming.
If you want to take dog-hair prevention a step further, it actually begins with the fabric selection of your clothes. Basically, the more texture a fabric has, the more it will trap dog hairs. So steer clear from fabrics like velvet, velour or corduroy. Knits are going to "trappers'' as well. Natural fibers like cotton and wool also will attract more than synthetics will. At the other end of the spectrum, smooth fabrics such as leather, pleather and silk offer the best chances for a dog-hair-free appearance.
Leather and silk. Hmmm. If the classy dominatrix look is not an option,  try the next steps in the defense against dog hair: Clothing care and laundry.
First of all, hang up your clothes. Yes, we know, easier said than done.
Next onto the laundry. This is a great dog-hair hack by Clean my Space: Pre-treat your load of clothing by placing them in the dryer for 10 minutes on a heat-free, tumble-only cycle. This will help loosen the hair, soften the fabric which helps get rid hair in preparation for your wash. Remember to empty your dryer vent.
Now, shake each garment out before placing in the washing machine to rid it of any extra hair and wash as you normally would. You can even add in ½ cup of white vinegar which will help the fabric fibers relax and of course, loosen any extra hair.
Once the wash is done, shake each garment out, again, again before placing into the dryer.  Dry using a regular cycle and ensure you get tumbling in there. Dryer sheets can also help break the bond between hair and clothing.
It will take some doing but through grooming, more careful clothing selections and a little extra time in the laundry room, you can too, walk around relatively dog-hair free in 2016.