Next week, summer returns to Phoenix with a predicted 106-degree boom. Why not plan ahead and whip up some frozen dog treats (and maybe some for yourself)?
Here are some yummy, easy DIY recipes for you and your little buddy, they range from one ingredient nibbles to complicated (ok, three-item) delish treats.

Very simple treats
Frozen green beans, sweet potatoes (both great sources of fiber for Fidos)
Frozen pieces of fruit
Frozen chicken bouillon cubes (use low-sodium bouillon if possible)

Frozen watermelon treats
Watermelon is a good source of Vitamins C and A, potassium and magnesium for dogs. But canines can't handle the seeds or rinds.
Ingredients
2 cups of  watermelon (seedless, or if not, then remove the seeds)
1 cup coconut milk or coconut water
1/4 cup honey (optional)
Directions:
Put all three ingredients in a blender and puree. Pour the liquid into some ice cube trays and freeze.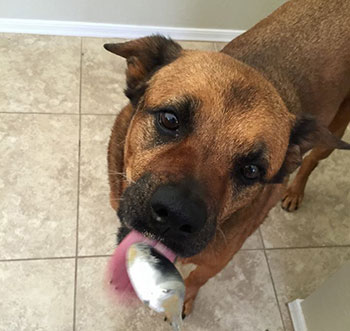 Makes 30-40 Cubes
Ingredients:
4 cups yogurt, plain
½ cup creamy peanut butter
2 tablespoons honey
1 ripe banana, mashed
Directions:
Melt peanut butter in microwave for about 30 seconds
Place all of the ingredients into a blender, mixer or food processor and mix well (until smooth)
Pour into ice cube trays or Popsicle trays.
Freeze until firm.
Pop out of the tray (you'll need a knife) and let your dog enjoy this frozen treat!
Let us know how these work for you or if you have any frozen treats you love to give to your dog. Want to go out for some treats – we have you covered.
Enjoy and stay cool!