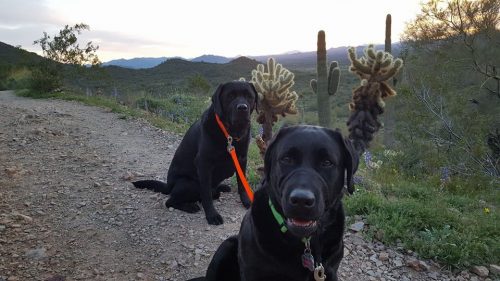 Metro Phoenix is blessed with a large number of hiking trails around our communities and some great weather to hike in. Why not load up the dog and hit a trail?
The city of Phoenix alone has 88 trails and then add into that, wonderful trails north of Scottsdale and other Maricopa County trails throughout, and you have a lot of options for you and the pooch.
New law: You can't hike with your dog on city of Phoenix trails if it is 100 degrees or hotter!
Here's a list of some of our favorites, with some shady areas, well groomed trails and good bail-out points. They are all very easy on the dogs and hikers.
We'll add more trails and include some longer jaunts as well as some good ones for out of town.
General pointers for hiking with your dog:
Most national U.S. parks do not allow dogs on the trail
Cholla, Echo Canyon and Piestawa Peak in Phoenix don't allow dogs on the trail
Parking lots at most trailheads are open daily from 5 a.m. to 7 p.m.
City of Phoenix trails:
Phoenix Mountain Preserve:

Dreamy Draw: Trails aren't well marked but the trails are relatively smooth.
North Mountain Trailhead: The path up Shaw Butte is a popular one for dogs; it's steep but dogs seem to love it. North Mountain Visitor Center is super dog friendly and a good place for you and the dog to cool down, if necessary. There's a dog water bowl right underneath the indoor water fountains.

Phoenix Sonoran Preserve

Apache Wash: lovely, smooth, well-groomed trails with some shady spots. Watch out for mountain bikers, tho!
McDowell Sonoran Preserve:
Brown's Ranch: Easy-peasy through lush desert. Perfect for new hikers and their dogs.
Taliesin Overlook: Little bit more challenging but still very, very do-able.
Maricopa County Parks
Out of town hiking