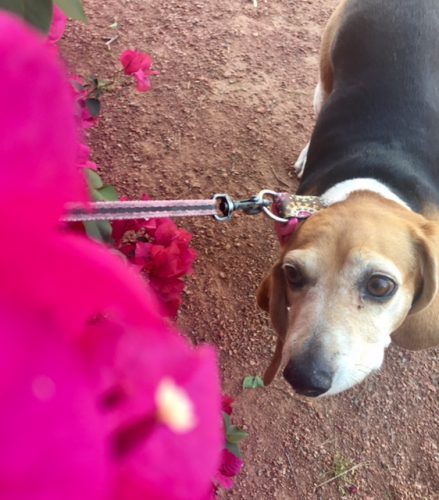 Springtime is busting out all over in metro Phoenix-land and the industrious among us are taking advantage of great weather to plant trees, vegetable gardens and landscaping — but what about the dog?
No, you really can't get the dog to shovel the dirt for you (of course, they can dig – boy, can they dig) but you should think about the dog when choosing what is going into the ground at your house — surprisingly, a lot of common desert-garden mainstays can be poisonous to your four-legged buddy.
Plants poisonous to pooch
Aloe: Causes vomiting, diarrhea, loss of appetite, depression, tremors, change in urine color
Bed of paradise: Nausea, diarrhea, lack of coordination, increased heart rate
Lantana: Bloody diarrhea, frequent urination, shock, vomiting
Oleander:Vomiting, diarrhea, loss of coordination, shallow/difficult breathing, cardiac failure
Sago palms: Black (tarry) stools, jaundice, increased thirst, bruising, liver damage
Our friends at Sonoran Foothills Pet Clinic have a very comprehensive list of plants that can be dangerous to your dog's health. The chart also includes photos so you can easily ID plants. So check it out before heading to the nursery!
Keep your dog out of the plants
Follow these simple strategies to help prevent your dog from being accidentally poisoned:
Vigilance: Keep an eye on your dog while they are outside
Alternatives:If your dog loves to dig, set up an alternative spot where they can dig to their heart's content.
Alternatives (part 2): Be liberal with the dog chews and chewing toys. Make your garden less attractive to your little digger.
Exhaustion: Exercise the dog more often; a tired dog is going to be sleeping inside instead of heading out to the Great Outdoors.
It's also a great idea to keep a list of important phone numbers in a visible, easily accessible location and at the ready on your cell phone. Dial in:
Your primary veterinarian
One or more nearby 24-hour veterinary emergency clinics
ASPCA Poison Control: (888) 426-4435 (possible fee)