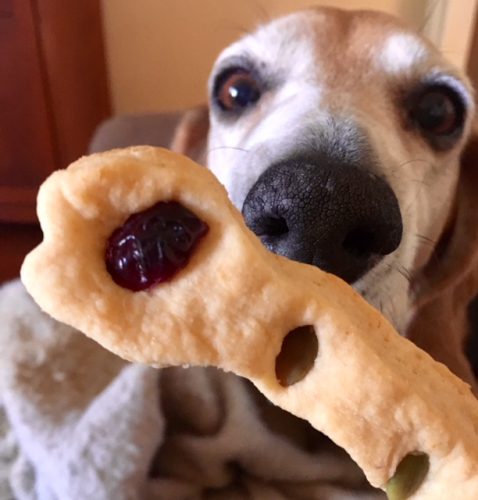 Once again, it is one of my favorite dog time of the year — baking holiday treats for dogs!
I love baking for dogs for so, so many reasons
Why do baking for dogs?
First, it's for the dogs. And for the most part, they like food, so they aren't too terribly picky, unlike Aunt Shirley, who is a real fusspot when it comes to the type of cheese used for the mac and cheese and the vinegar used in the salad dressing and the origins of the apples used in the pie.
Nope, chances are the dog is going to enjoy as is. The amount of baking powder doesn't have to be exact; the cookie shapes not precise. The dog will just love them –and we love them just a little bit more for their non-judgey ways.
Second, you know what's in your treats. How many times this year have you read about dog treats or dog food being recalled? When you bake for your dog, you choose what goes in the grocery cart. Organic honey? Sure.  Applesauce with no extra sugar? Check.
This year, I decided to experiment in baking with carob – which is like a cousin to chocolate. Chocolate is super dangerous to dogs but carob is free of theobromine and caffeine so it won't harm your canine pal. Carob is also low in fat and high in fiber making it a healthy alternative to chocolate, according to our friends at the ASPCA (which runs a great poison hotline for canines).

Baking for humans, too
Homemade dog treats also can be a great way to show appreciation to the humans around you. Most of my peeps have enough stuff. They don't want more stuff. So that leaves experiences and consumables as gift-giving choices. But so many people are now on specific eating plans (paleo, keto, low-carb, high-fat, high-sugar (just kidding — the last one is my diet this time of year as I flit from dessert to dessert!). But your family/friends/colleagues/neighbors have a dog, chances are the dog isn't on a diet so much – at least someone in the house can enjoy a little baked goodie.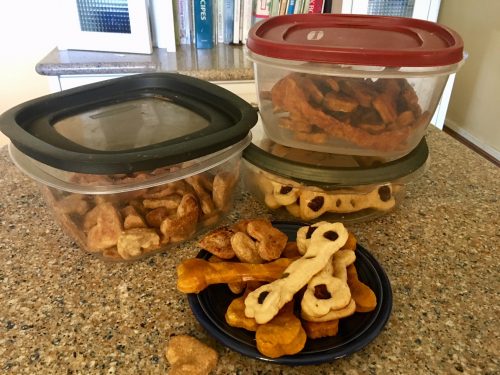 And for personal reasons
And lastly, it's for sentimental reasons. Once your get past the tricky math of tripling and quadrupling the recipe, baking can be pretty mindless. The repetition of kneading the dough and cutting out cookies allows me time to think about the dogs who I am baking for and the dogs who left us in 2018.
This was a difficult year for many of us who had to say good-bye to our cherished friends. Amid the flour measuring and cookie cooling,  I reminisced about those dogs and thought about the new dogs who have entered our lives in 2018 — remembering the beloved and gratitude for new  – isn't that a big part of the holidays?
And without further Hallmark-like thoughts, here are the recipes I used for this season's doggie treats:
Enjoy! And happy, happy baking and gift-giving!