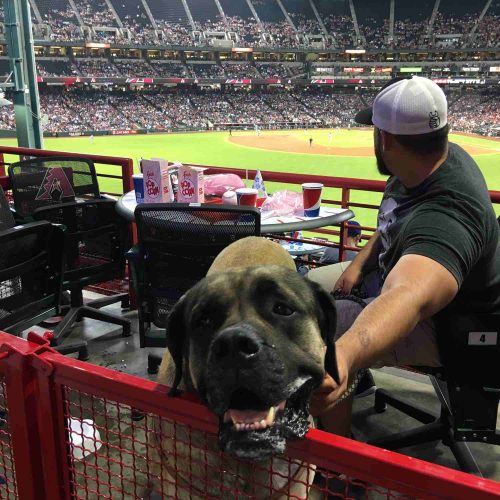 You know what is great? It's great when your baseball team, the Arizona Diamondbacks, is on a scorching hot streak? And they beat the Dodgers repeatedly. And that you can take your dog to a game in downtown Phoenix.
That's great. Really, really great.
(Of course, how long the Diamondbacks are in downtown Phoenix remains to be seen since there are a lot of rumors that they will be headed to north Scottsdale sooner or later)
Head to the ballgame with your dog
But for right now, you can hope on the Light Rail and head down to the ballpark with your pooch.
The Diamondbacks were the first baseball team in the country to have a dog-friendly section at the ballpark. Other teams, including the Dbacks, had had bring-your-dog-to-the-game days but our team was the first to put in a special section for our four-legged friends.
Two baseball-viewing options
So here's the rundown, baseball and dogwise:
On Sunday, you can go to  "Bark at the Park" versus the Houston Astros, with a pre-game Puppy Parade on the warning track at Chase Field.  Bring your dog and sit in the stands.
And on 17 other Sunday and Monday home games, there is "Dog Days of Summer". Dogs and their peeps have their own dedicated seating and concessions area, PetSmart Patio, and their own indoor/outdoor dog park. There also will be onsite adoptions of dogs by leading area animal-rescue groups.
Dog Days of Summer ticket packages start at $160 and include a semi-private space with all the necessities for four people and one dog. Each table comes with access to All-You-Can-Eat hot dogs, soda, water, popcorn, peanuts, and chips. Fans must purchase entire table.
For dogs, hanging out on the patio means they aren't confined to a seat and can roam around the suite. Another big thrill for the dog: dog-friendly ice cream with chicken, bacon, turkey or sweet potato toppings.
Be sure to head to the Chase Field dog park so Fido can burn off some of that sugar-induced energy before the trip back home.
But wait, there's more
For those of you who love road trips with the dog, just know that the San Diego Padres are having their own "Dog Days of Summer" event Tuesday, June 19. Info is available on the Padres' website.