Let's go to San Diego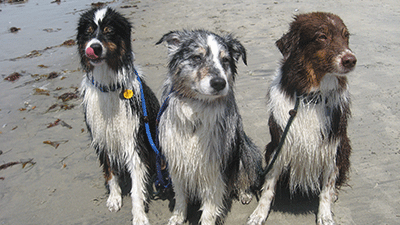 Hmmm, temperature in Phoenix for Thursday: 111; temperature in San Diego: 70.
Seems like it is time to pack up the dog and hit the road. Perhaps you already have!
Your dog, of course, will love going to San Diego since not only does it have such incredibly fine weather, it is also perennially named as one of the most dog-friendly cities in the country.
The beaches are a big part of why San Diego gets such glowing reviews.
There are four dog beaches in the metro area. (Our book Happy Dog Phoenix has the list) And when we say dog beaches, we mean it. People are just as likely to pack up their dog to go to the beach as they are to get the cooler ready. Dogs are everywhere. In July, there's a surf-dog competition; there are some surfing classes for your dog and near every dog-friendly beach is a dog wash where you can lather them up and hose them down.
Our favorite dog wash is Dog Beach Dog Wash (also known as OB Dog Wash). It's the classic, opened in 1993, and known for very friendly employees and a fun laid-back atmosphere. That's important because when you are washing a Rottweiler, it's good to be mellow.
Another San Diego dog classic is: The Original Paw Pleasers. It offers fresh-baked treats and but my dog, like me, loves the ice cream.
One more San Diego classic is the historic Hotel del Coronado, which now welcomes small pets, and for those with bigger dogs, check out the Loews Coronado Bay Resort. Looking for budget friendly as well as dog friendly? Head over to the Holiday Inn near Horton Plaza or there's always La Quinta.
Ahhh, San Diego: five hours away and 40 degrees cooler. Can't beat it.