Ice Cream for Dogs?
Hey, dogs and their peeps: What's better on a hot summer night than to go out for ice cream?
We've got three great places in metro Phoenix that offer something extra special for the dogs in your life.

But first a warning from the Surgeon General (doggie version): Ice cream can cause trouble for some dogs' tummies. They can't tolerate the lactose and just like humans, the sugar is not good for them.
So ice cream should be a rare goodie.
Nonetheless, these three local businesses have whipped up some special frozen treats for our four-legged friends. Take a look:
Disclaimer: The Beagle went with me to all three places. She loved devoured every single item. Beagles are like that – your dog may not love them as much. But I doubt it.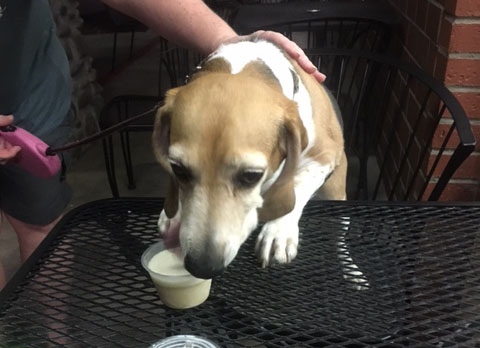 Aloha Yogurt, Tempe
What they have: Talk about going all out. The yogurt shop's owners have dogs and wanted to create some cool creamy treats for them. Think yogurt with peanut butter or yogurt with bacon and cheese.  Served in a cup.
What we also love: Aloha is in a cute little shopping area where you can easily walk around and let the dog enjoy a post-treat stroll.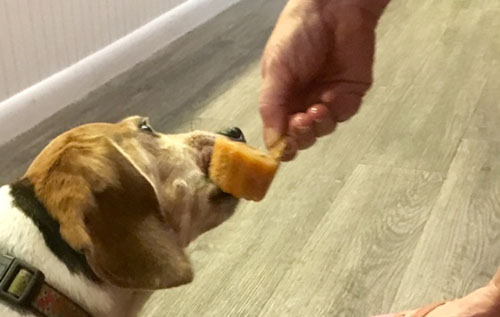 Az Pops, Central Phoenix
What they have: Pup pops! A nutritious combination of sweet potato and oatmeal whipped up into a frozen treat.  Served on a stick
What we also love: AZ Pops' Pup Pops aren't dairy based and have all natural ingredients. And you can get something tasty and nutritious for yourself while you are there.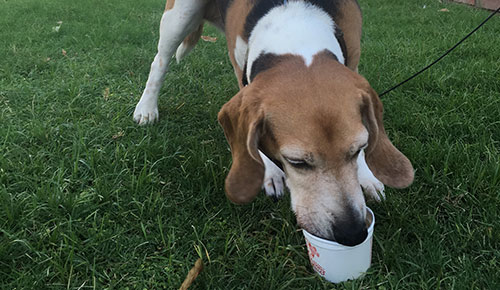 Papa Ed's Ice Cream, Glendale
What they have: Frosty Paws! Delicious in a cup – the original dog "ice cream"
What we also love: Papa Ed's has a large grassy area out front where your dog can just attack the ice cream in a cup. It's also in the middle of downtown Glendale's cute antiques area so there is plenty of places to walk to. Bonus: Papa Ed's helps put on Dog Days of Glendale every year so they are super-dog friendly!
Still not interested in taking the dog for a drive? Worried about the intestinal repercussions of your dog having ice cream? Don't worry because….
Next week: Three yummy dog treats designed to cool off your dog!