Play (dog) baseball!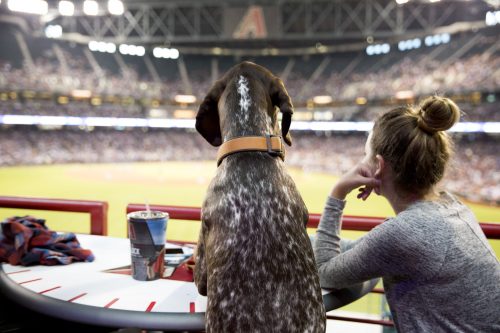 Photo courtesy of Arizona Diamondbacks baseball
Baseball is back and that means you can have a hot dog with your dog at an Arizona Diamondbacks games in downtown Phoenix this season.
Last year, the Diamondbacks became the first of any kind of baseball team to offer an entire dog-friendly seating area through its Dog Days of Summer promotion. And because many of those games at the PetSmart Patio were sell outs, they are expanding it Mondays this year.
That means you can take your dog to 12 Sunday afternoon games and eight Monday night games at Chase Field this summer.
What you get at the baseball game
Dog Days offers a semi-private space with all the comforts for four people and one dog. You get All-You-Can-Eat hot dogs, soda, water, popcorn, peanuts, and chips. There's also dog-friendly ice cream.
Dogs can also run around and play in Chase Field's outdoor and indoor (air-conditioned) dog park.
In addition to having sellout games, the Dog Days of Summer were a success in another way: onsite adoptions held during the event allowed 58 dogs to find forever homes.
Check out the schedule if you are interested in taking the dog to the D'back ball games.
Does your love of dogs and baseball go even farther? Many teams in the National League West are sponsoring dog-day events. You and the dog could hit the road to catch a game in cooler place this summer.
Check out this list of dog-friendly games across the country
See you at the ball field!