Dogs and vacation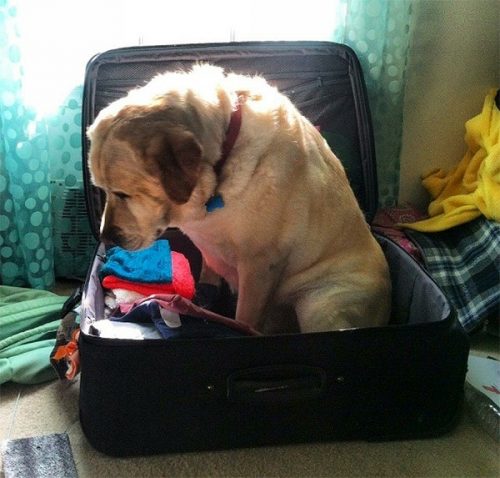 Amazingly, we are already in June and dreaming of taking time off. But, what about the dog – as we so often ask around here? If you are headed to destination that is not so dog friendly, where is Poochie going to stay?
When it comes to finding a dog-sitting place in metro Phoenix, there are a lot of options – and they all have one thing in common: book early!
Here are some choices you have in finding a place who will care for your dog while you are on R&R:
Dog-sitting friends:
Pros: Whether you drop off the dog at their house or they come over to your place to watch the dog and live off your AC while you are gone, friends make a terrific dog-sitting option. Dogs can still enjoy their favorites (the sofa, bed, stack of dirty laundry) and remain the spoiled little member of royalty that they are.
Cons: What happens if the dog pees in your friend's house? Or rips up the sofa? What happens if the dog gets really sick while you are gone? Or if the dog escapes? Is your friendship strong enough to handle these potential crises? Talk with your friend before handing over the leash.
Professional dog sitters
Pros: If your dog has special needs (i.e. older, poor health, behavioral problems), a professional pet sitter may be for you. Your dog can still hang out where they are most comfortable. Some pet sitters come to your house twice a day; others spend the night or take the dog home with them. Many are trained in CPR and have experience in giving medications.
Cons: The rates are really flexible. Some charge $22 per 20-30 minute visit; while others charge $100 for an overnight visit. Others charge extra for holidays or more than one dog. Contact the National Association of Professional Pet Sitters or Pet Sitters International  for some suggestions. But nothing beats personal referrals. Also make time in your schedule for the prospective pet sitter to come to the house so you and the dog can check him out. That first get-to-know-your-dog visit should be complimentary.
Doggie daycare
Pros: Some of these places are palatial — your dog may stay at a  swankier resort than you do.  Some doggie day care places go all out with a swimming pool, play spaces, Animal Planet on the flat-screen and lots of doggie camaraderie. So if your dog loves other dogs, check this out.
Cons: Paradise is never cheap. Daily rates can range from $40 to $70.  That can add up if you are gone on an extended va-cay. Many of these new-style boarding facilities also offer day care, which means your dog could be boarded at a place she already knows.
Alternatives? Your veterinarian's office can offer boarding as well. It may not be fancy but your dog will be monitored by professionals. 
No matters which option suits you for this vacation, act fast. Good places book up; others charge last-minute-appointment fees. And if you are taking your dog to a place with other dogs, you may to have make sure she is up to date on her vaccinations.
And what about the hardest part—saying goodbye? Experts say avoid long, emotional farewells that could only upset your dog. Instead, bring back treats (lots of them!)
Happy vacationing!