Bye for now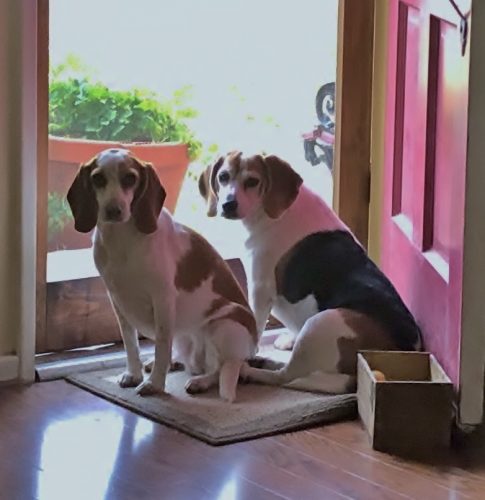 Greetings from Happy Dog Phoenix! I sincerely hope that you and your two-legged and four-legged families are hanging in there during this tough time. (Aren't dogs nice to have around?)
I have been thinking about you a lot but not posting too much. Like all of us, my life got thrown a little upside down and many plans went by the wayside.
What's up with Happy Dog Phoenix?
Like, for example, getting dog training for Lizzy and Giggy. I was going to do it after I got my tax refund And then coronavirus hit and I wasn't so sure I wanted to meet with a trainer, no matter how many masks we wore. So, I put dog training on hold. And now it's too hot, so the training is going to have to wait for fall. Sorry, neighbors – the barking at random objects continues!
What's up with Facebook postings?
Another big reason I haven't posted is because of Facebook. Facebook is the main way I drive traffic to this site. And to do that, I have to pay Facebook to advertise my posts. It's not much but it's money. And for many, many months now, I haven't been too pleased with Facebook. First, I didn't like how they were profiting from people's privacy.
Whether you are a liberal or a conservative, I bet you want to be told the truth. And I think Facebook doesn't do a good enough job at that.
We all know Facebook friends who seem to have perfect lives: "Hey, we're summering at the beach! Here's my daughter, the valedictorian. My husband made me breakfast in bed. If we know these people well enough, we know the beach stay means close quarters with pain-in-the-ass relatives; the daughter suffers from anxiety and the husband totes around a justifiably guilty conscience.
It's up to us to see through these fibs/aggrandizements. But I think it is Facebook's responsibility to monitor its paid content. I was a reporter and I was responsible for what I wrote; my newspapers were legally responsible for what they printed. Facebook, which made $70 billion last year, can certainly keep better tabs on what appears on its pages.
I have long believed that technology is transforming society faster than our minds and morals can adapt. And I think Facebook is a case in point. It has grown so rapidly and so pervasively, that individuals can't critically analyze the reams and reams of content it produces daily. Until Facebook steps up to be a responsible corporate citizen, commensurate with its scope in the world, I will struggle to pay for it.
The girls are doing great!
It's not like I am going to be bored. I've got two dogs, for goodness' sake! Whenever people tell you that by having two dogs, you've got built-in dog sitters; they aren't being exactly accurate. Sometimes, one dog will keep the other dog company and sometimes, you just have two dogs to take care of.
Frequently, I feel like I have an eight-legged, two-headed dog that is determined to do two different things at once, like running down the street and sitting down on the sidewalk. But so much love when you come home!
Despite any awkwardness on my part, the girls are doing great. Lizzy has lost more than 12 pounds and can run after other dogs at the dog park. (Thanks Fromm dog foods!) Giggy has bulked up a little and that's good. They've made friends (dog and human), hiked, visited, gone to dog parks, walked, gotten their check-ups — all the good things I that I endorsed in Happy Dog Phoenix.
I've met so many great people and dogs through HDP that I really can't say I am quitting but I am trying to figure how to do things sans Facebook. So until later, my friends, be safe, be well and keep the dogs happy,
Love, Jodie