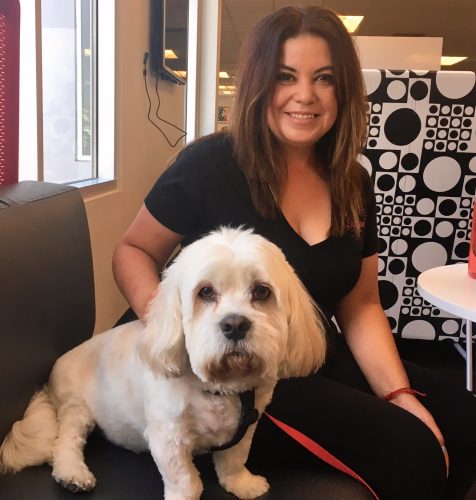 Today is National Take Your Dog to Work Day but how great would it be if you worked where you had canine companionship all the time?
Sandra Munoz and Jeremy Gunter have it. They both have work spaces at CO+HOOTS, central Phoenix's first shared coworking spot. The ultra-friendly spot was recently named by Inc magazine as the No. 4-ranked shared work space in the U.S.
Could it be because of the dogs?
Odeen Dominguez, CO+HOOTS Foundation cofounder, says that in the sometimes lonely world of owning your business,  it's good to have an-always loyal supporter, even if they have no checkbook.
"In a space where entrepreneurs are putting their all into building their businesses from scratch, having dogs around allows for a much needed mental break that we're happy to provide," he says.
Cool space for canines
Sandra Munoz, owner of the Latinaology Hispanic women website, always brings Vanilla with her when she comes to write and network with others. The Maltese/Cocker Spaniel/Papillion/??? dog loves CO+HOOTS' cool vibe as well as its cool concrete floors.
As part of her multifaceted entrepreneurial world, Munoz also writes automobile reviews. And of course, Vanilla, comes with for test drives– what dogs doesn't love going on a car ride?

Dogs as work place dealbreakers
For Jeremy Gunter, finding a job that allowed his dog, Chloe, was high on his list of workplace criteria. No Chloe; No Jeremy. Ackmann & Dickenson, website designers, got it that the smallish German Shepard was part of a package deal. Now, the two come to work everyday.
Weather permitting, Jeremy and Chloe walk from home to work and back. The walk helps mellow Chloe out for a day at the office, where she hangs out in her special corner and has a small arsenal of toys.
For Jeremy, Chloe's presence provides some steady companionship and eliminates the need for him to go home and check on her. Did you know that one in five workers say they go home at lunch to check on their dogs?
What about the rest of us?
So what if you don't work in a totally cool place like Sandra or Jeremy?
Perhaps it is a good idea to remind your manager and those in HR that there are a lot of advantages of having doggies in the office. Canines can help break down cubicle walls. Chances are that even if that person denied your budget request, you still will like her dog. And maybe that person isn't such a jerk since she has such a nice dog.
Need more ammo to change workplace policies? Here a list of companies that let you bring your dog to work . Maybe it is time to follow in their paw steps!