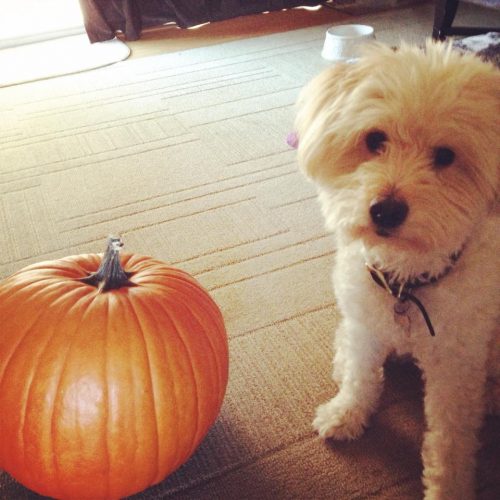 This Fall, remember your dog loves pumpkin, too.
We've turned off the AC and opened the doors and windows, so that means its Fall in Phoenix. Hurray! The season only lasts for a few days here – so enjoy every minute of it.
Fall in Phoenix doesn't involve any changing leaves. In fact, the only color we see a lot of is orange as in pumpkin as in pumpkin that everyone from coffee shops to grocery stores to soap makers are pitching this time of the year.
Your dog can get in on the pumpkin-mania, too.
Pumpkin and your dog's health
Raw pumpkin is not great for dogs – so keep Fido away from the Jack-o-laterns!
But cooked, canned, unsweetened pumpkin and pumpkin seeds can help dogs with everything from weight loss to improved digestion. Ask your veterinarian first about any plans to make pumpkin a regular addition to your dog's diet.
Regular Digestion: If your dog's stools are either too loose or too hard, try adding one or two tablespoons of plain pumpkin.
Weight Loss: Mix some soaked dry kibble with a tablespoon of canned pumpkin. Pumpkin's extra fiber boost lets your dog's tummy think it is full faster.
Skin and Coat: Pumpkin seeds can help keep your dog's skin and fur from drying out – especially nice with the area's lower humidity.
Pumpkin treats for your dog
Here are three nifty ways to use this fall favorite as a treat for the dog:
Recipes: (No-bake peanut butter pumpkin rolls sounds pretty delish)
Pumpkin seeds: Spread raw, cleaned seeds evenly onto a baking sheet, lightly coat with cooking oil, roast in a 375-degree oven for five to 10 minutes, and cool. One or two seeds makes a great dog treat.
Frozen treats: The typical can of well, canned, pumpkin, is 15 ounces, which means you will have left over pumpkin at the end of the week. Instead of tossing the leftovers, freeze them in ice cube tray. Crush up the ice cube before serving or defrost it to serve over kibble.
Hope you and your pumpkin (s) have a great Fall!