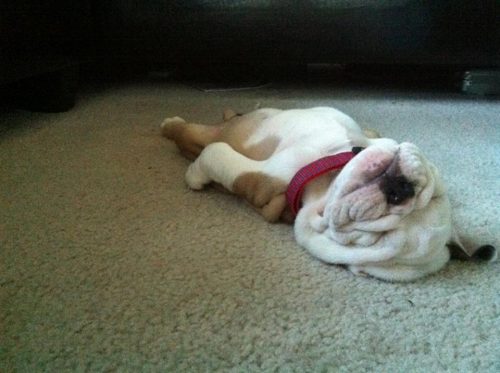 Yea, it is hot in Phoenix now. Hot for you and the dog. Blazing, furnace-level hot. Mucho de heat.
We checked in with our friends at Blue Pearl Specialty and Emergency Vet in Gilbert for some info on how to keep your dogs safe during this excessive heat. Here's a great Q and A with Dr. Gloriana Halterman, DVM
What should dogs drink in the heat? Anything besides water?
Water is really best. Things like Gatorade or Pedialyte have a lot of sugar. Having lots of fresh, cool water available is the most helpful thing to do for your pet. Misting sprays can also help your pet dissipate some of the heat.
My dog still wants to walk in the heat. What can I do?
It's tough. But when it gets this hot, sometimes you have to say, "We just can't do it." One option may be to wait for the sun to go down. But you'll still need to be cautious. Another option is to seek out an indoor exercise area, such as a doggie day care that is well air-conditioned.
What about booties? Do they help?
They can be helpful, but the problem is they get worn down with extended use. And we don't want to be overly reliant on them because then we can encounter the other problems that the heat brings, such as heatstroke. If it's hot enough, you can use them to help your dog walk short distances — just enough to get from one place to another.
How about having the dog just walking on grass when it is hot?
Grass is better than concrete. But be cautious around dry, broken grass. And especially with artificial turf — this may look like it would be cooler but it can actually get quite hot.
What else should I know dogs and this kind of heat?
One thing that we really want to stress is to take caution if you have a breed of dog that is brachycephalic, such as a pug or a bulldog. Because of their short noses, these breeds are very prone to heat-related problems. Last year, I had a horrible case of a family who had their bulldog out at 9 p.m. at night on the Fourth of July and he still got heatstroke. Just be very, very cautious if you have one of these dogs.
Also, if you suspect your dog is suffering heat-related problems, please don't dunk her in an ice bath. You may accidentally lower her body temperature too dramatically. Instead, gently cool your dog with wet towels, a mister or a fan.
What have you seen so far during this heat wave?
We haven't actually seen as many heat-related cases as you may think at our Gilbert hospital. We did have one case of heatstroke and another dog with bloat who had skin lesions that appeared to be heat related. It's actually more common to see heat-related cases at the start of the summer. Right now, when it's so brutally hot, everyone is very cognizant of the heat. It's earlier in the season that people are generally less aware of it. But we will continue to see some cases throughout the summer.
Great advice about keeping our dogs safe when it so hot out there, Dr. H — thanks so much for the info!