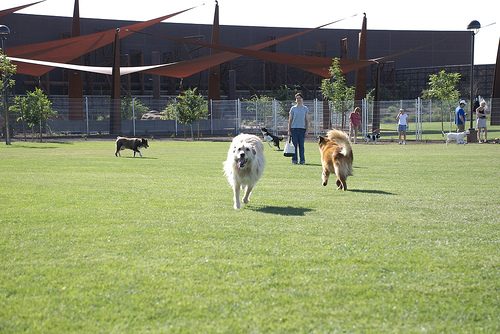 Phoenix weather, especially at night and in the mornings, appears to be cooling off so now is a great time to introduce (or re-introduce) your dog to the neighborhood dog park.
These dog parks provide a great way for dogs to meet other dogs and people and well, frankly, for people to meet other people.
Here's a list of metro Phoenix dog parks. If you know of any others, please let us know. We are trying to update our list!
Also dog parks allow our little friends to get some physical and mental exercise. That running around makes them less likely to destroy the house.
But — and there is always a but — there's always a chance of your dog getting in fights or picking up strange parasites and diseases as a result of going to the park.
Our friend Abby Quillen has come up with some terrific tips on dog-park etiquette. She covers getting your dog dog-park ready, health hazards, behavior and general do's and don'ts at the park.
Important reminder for all Phoenix peeps and dogs! Bring water — just in case. The weather hasn't cooled off that much. And you never can be sure about the quantity and quality of water at any park
Check out Abby's nifty, visual dog-park primer: