Hiking with your dog in northern Arizona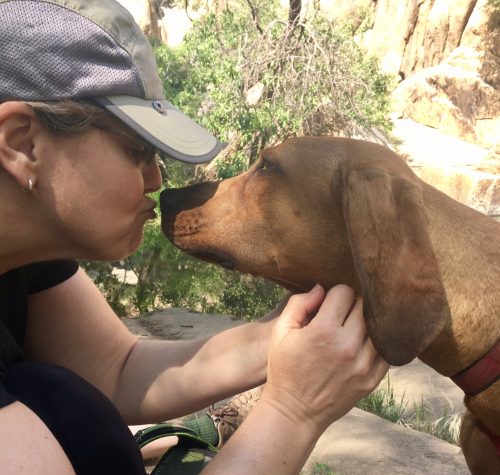 How hot is it going to be in Phoenix next week? 117???? Yee-ow – time for people and dogs (and people with dogs) to get out of town and go hiking in the hills in northern Arizona.
We caught up with awesome Mare Czinar, Arizona hiker extraordinaire, to ask her recommendations on hiking in northern Arizona with your dogs.
Mare, who has eight dogs at home, shared some good suggestions.
Prep before you go hiking
Make sure your dog is ready to hit the trail. Get her vaccinated and protected against ticks, fleas and other summertime dangers, says Mare.
It's also good to have the veterinarian give your dog the once-over before doing any serious long-distance hiking just to make sure she is in good shape.
Also,know what trails require dogs to be on leashes. That's especially handy when you share the trail with horses; a loose dog can get a horse tangled up pretty fast and that can lead to some bad complications (true story!)
Water, water, water
The biggest problem Mare sees on the trails is that people don't bring enough water for their dogs. It's important that people give their dogs water before, during and after the hike.
Generally speaking, larger dogs might drink 0.5 to one ounces of water per pound. Dogs 20 pounds and lighter will be closer to 1.5 ounces per pound per day. And just like with people, it always pays to have more water than you think you will use.
Water is the best insurance you can have on the trails. If you or your dog get hurt, you will be grateful for that extra water you carried.
Favorite dog-friendly hiking trails
Two of Mare's favorite hikes to go on with her dogs are Horton's Creek near Payson and Parson's Trail near Sedona. She loves these spots with with running water but she also cautions that that water can be harmful to your dog. Water contaminated by animal or human waste can contain bacteria, which can cause diarrhea and worse for your dog.
Hiking with dogs, is just like hiking with humans – a little prep work goes a long way.
Happy trails everyone!