Raccoons and dogs may not mix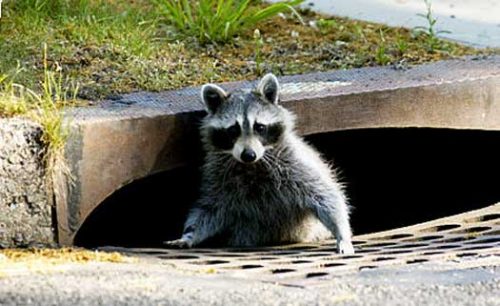 As someone living in Phoenix with a dog, you tend to be worried about coyotes and javalina but what about the animal kingdom's masked banditos, raccoons?
You could have raccoons in your neighborhood, even if you live in the middle of the city. Areas around the Arizona Biltmore, north central Phoenix and Moon Valley attract the intelligent, nocturnal, omnivorous creatures. They are drawn to these areas' supplies of water (canals, golf course lakes) and tall trees in which they can roost.
Cue the raccoons
But what they love best is easy-to-get food. Does your neighborhood have a lot of feral cats and tender-hearted neighbors who like to feed these cats? Cue the raccoons. They love outdoor buffets and will enjoy going from house to house eating food left out for cats.
If you have a raccoon in your neighborhood, what does this mean for your dog? Aren't raccoons vicious, dangerous and full of rabies? What happens if a raccoon bites your dog?
Well, good news. The Arizona variety of raccoons don't carry as many diseases as their East Coast cousins, who can easily have rabies, according to Darren Julian, spokesman for the Arizona Game and Fish Department.
Think of it as karmic payback for us Arizonans having to deal with coyotes, scorpions, javalina and other desert threats to our dogs. At least we don't have to freak out about raccoons.
What to worry about
However….
Although they aren't carriers of disease, raccoons can get violent toward dogs especially if they feel boxed in. A cornered, angry raccoon can bite and scratch a dog something fierce. And while the Arizona variety may not have rabies, they can leave bites that left untreated could develop into bad infections.
If you have the critters in the area, just keep an eye on your dog at night to discourage any dog/raccoon skirmishes, Julian says.
And if you want to live in a raccoon-free area, he suggests changing the way you or your neighbors feed stray cats. One method would be to encourage the cats to come into to be fed at regular times instead of the free-feeding method.
Free-feeding can encourage free loaders, even those cute, pesky little raccoons.