Helping dogs hurt by Texas floods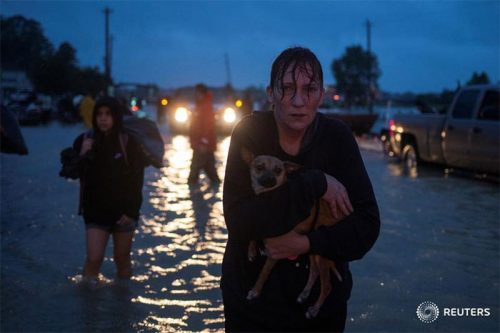 It's stinkin' hot now in Phoenix but I'm not complaining. Our heat is nothing compared to the floods and resulting anguish that people and animals in Texas.
Have you seen the video of the folks who are cradling and carrying other peoples' animals to get to safety? I tear up every time I think of it.
What can people in Phoenix do to help our fellow dog lovers and their dogs displaced and harmed by the floods?
Donate money to flood animal victims
Phoenix's own PetSmart Charities has already made an initial commitment of $1 million that will go to pet food and other supplies for shelters and other organizations. You can help support their work by donating here.
The Humane Society of the United States Animal Rescue Team has volunteers, equipment, and rescue vehicles currently working from Corpus Christi to Texas City to San Antonio.
The ASPCA is on the ground with search-and-rescue, sheltering and relocation teams in Houston and much of Harvey's path. They are asking for monetary donations or membership within the organization to support ongoing rescue efforts.
No matter what organization you select, donating money is key. You may want to just drive over to Texas with a truck full of dog food. It's a great idea but it is still flooding theree, the roads are a mess and you can donate safely and effectively with just a couple clicks of a mouse.
Keep it local
Want to keep your donations more local?
Go online and donate to:
Beware of flood scams
Vultures who prey upon these types of situations are already setting up phony relief efforts and telemarketing efforts. Don't be fooled! Check out any organization you give money by looking them up at Charity Navigator which already has a Hurricane Harvey specific section.
Gimme shelter
Already shelters as far as New Jersey are flying dogs to their facilities to be fostered. No word yet if any Harvey dogs are coming to Phoenix. If we hear, we will let you know. And if your foster group is taking any in, please let us know – we would love to get the word out.
Dogs and dog lovers everywhere, take care!