Secrets of patio dining with the dog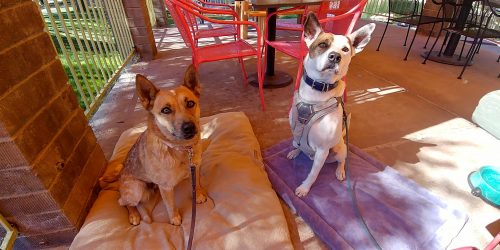 The Phoenix nights are still so nice and cool – why not go out dining with the dog to one of the many, many, many local dog-friendly restaurants?
But, first does your pup have good patio manners?
Does she filch food? Act up for attention? Bark at other dogs? Brie Kuna, behavior specialist at Arizona Animal Welfare League, says the key is to have a dog who knows the basic commands, knows their name, maintains good eye contact with you and stays still when lying on a mat.
That's all!
Tips on how to enjoy patio dining with the dog
If you think your dog has mastered those techniques, Kuna offers some other great tips about dining out with your dog:
Does the dog want to dine out? Sure, you love happy hour. But does your dog really groove on wine glasses clinking, lots of chatter and endless plates of hummus and crudités going by? Some dogs prefer the quiet and some are just flat-out intimated by all that stimulation.
Pick your time: Quiet mornings after a nice walk may be the ideal time for you and pooch to hang out and dine al fresco. Happy hour may be just a little too busy for bowser.
Do some recon: Walk your dog outside of the restaurant to give her a chance to go potty before getting inside. That also allows her a chance to calm down after the car ride and acclimate to new surroundings.
Pick your spot: Choose someplace in the corner where it is easy for you and the dog to have good eye contact. The dog can have her back to the wall to survey the scene. Choosing a spot that keeps your dog out of the way is another great reason for going during off hours.
Bring supplies: Pack your dog's favorite blanket or mat. Not only does it provide a comfy spot on the floor, it also identifies the dog's space for her. It's her zone and she can zero in on it. Also bring along some high-quality treats and collapsing water bowl. Lots of dog-friendly restaurants have water bowls but it's good to be prepared.
Pay attention: This can be the hard part but you should pay attention to the dog even though your tablemates are telling hilariously funny stories. To succeed as a dining-out dog, your dog needs to know when she is being good. Go ahead and pay attention to her when she is being quiet and calm, reward her with nice eye contact or a soft word as she just lies at your feet.
What about Puppy? Puppies can benefit from socialization – can't we all? But make sure you are balancing social time with quiet time. Puppies aren't helped by being overwhelmed. And make sure they are vaccinated before they go out and about.
Dog-friendly restaurants around Phoenix
When Kuna goes out with her dog, Remmy, they head to OHSO, Snooze, Four Peaks or Postino.